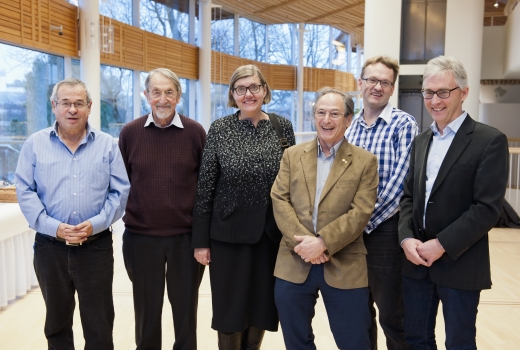 How is great research born, and how can a few ideas evolve into a new field of research? This and other questions where discussed a appreciated SeRC seminar about creativity with the Chemistry Nobel Leaurates in December.
The 2013 Chemistry Nobel Laureates Martin Karplus, Michael Levitt and Arieh Warshel discussed creativity and creative environments in a well attended SeRC seminar, December 14, in Aula Magna, Stockholm University. The Laureates shared their experiences, feelings and ideas about the future of science, and what they would do if they were to start over as PhD students today.
On the group photo can be seen, from left, Arieh Warshel, Martin Karplus, Astrid Söderbergh Widding, Michael Levitt, Erik Lindah and Dan Henningson.