PSDE: E-Science in Medicine – Prediction, Prognosis, and Understanding of Complex Diseases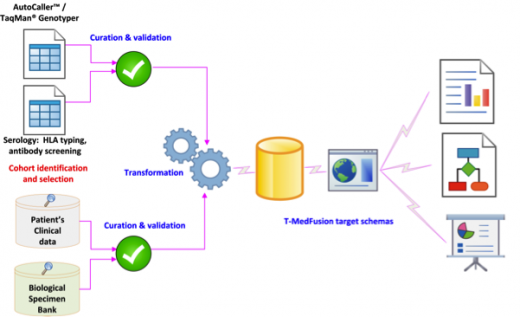 We develop and apply integrative experimental and computational tools to identify and enable quantitative understanding of molecular mechanisms of disease.
Our team is an integrated multi-disciplinary group of scientistsfrom a variety of disci­plines such as mathematics, immunology, physics, cell and molecular biology, com­puter science, engineering, biotechnology and medicine. We are approximately 30 people (20 PhD´s) where one-third of the team performs experimental analysis whereas the other two-third develops and applies computational methods. We have a large international collaborative network including five on-going FP7 projects. In the integrative computational medicine laboratory we have expertise and equipment covering the following areas (a) a fully equipped molecular biology laboratory, (b) expertise in bioinformatics, (c) mathematical modeling and computational biology, (d) an Illumina HighSeq2500 machine, and (e) Translational Informatics. These five pillars are used in different combinations in specific projects. Here we highlight our SeRC project:
Translational Informatics and T-MedFusion Ass. Prof Imad Abugessaisa,
To meet the challenge of data-integration we have in collaboration with clinicians developed a database architecture and software system (compmed.se/t-medfusion), which enables queries and integration (see Figure) across biobanks, Intermediate phenotypes, clinical phenotypes, and molecular data.
The system went live 2012 and is a web-based application, which is intuitive for biomedical researchers and clinicians to use and supports development of "application layers" e.g. integrative bioinformatics and LIMS solutions. The system is effectively a bridge between the healthcare sphere and the biomedical research world and is currently integrated in the communication between healthcare in Stockholm County and biomedical and clinical research at Karolinska University Hospital.
Technically, we address and solve logistics and secure management of big data, role based authentication techniques, support collaboration and data sharing among different research groups and enables cohort discovery through data visualization techniques.
Selected Publications (2009-2013)
Implementation of the CDC translational informatics platform – from genetic variants to the National Swedish Rheumatology Quality Register, Journal of Translational Medicine, BMC (2013, In press)
Enabling translational research by an informatics fusion platforms, (submitted)
Pediatric systems medicine: evaluating needs and opportunities using congenital heart block as a case study.Pediatr Research. Nature Publishing Group 2013 Jan 31. doi: 10.1038/pr.2013.19.
Integrative approaches to computational biomedicinePublished 21 February 2013 doi: 10.1098/ rsfs.2013.0003 Interface Focus 6 April 2013 vol. 3 no. 220130003
An evaluation of analysis pipelines for DNA methylation profiling using the Illumina Human Metylation 450k platform. Epigenetics. 2013 Feb 19;8.
A vision and strategy for the virtual physiological human: 2012 updatePublished 21 February 2013 doi: 10.1098/​rsfs.2013.0004 Interface Focus 6 April 2013 vol. 3 no. 220130004
Identification of novel markers in rheumatoid arthritis through integrated analysis of DNA methylation and microRNA expression. Journal of Autoimmunity 2013 Gen 7.
T-MedFusion: a biomedical data fusion platform, In proceeding of System medicine international conference (SYSMED 2012), 09-SEP-2012 to 13-SEP-2012, Dublin, Ireland, page 44, 2012
A beta-mixture quantile normalization method for correcting probe design bias in Illumina Infinium 450k DNA methylation data.Bioinformatics Jan 2013
B Cell to Macrophage Reprogramming Without Promoter DNA Methylation Changes. Nucleic Acid Research, Nucleic Acids Res. 2012 Mar;40(5):1954-68. doi: 10.1093/nar/gkr1015.
ParkDB: a Parkinson´s disease gene expression database.Database, Nucleic Acid Research, Oxford 2011 May 18 bar 007
Workflow for generating competing hypothesis from models with parameter uncertainty.Interface Focus. 2011 Jun 6;1(3):438-49. doi: 10.1098/rsfs.2011.0015. Epub 2011 Mar 30.
Systems medicine and integrated care to combat chronic noncommunicable diseases.Genome Medicine. 2011 Jul 6;3(7):43.
An atlas of combinatorial transcriptional regulation in mouse and man.Cell.140:744-752, 2010.
A complex transcriptional network controls growth arrest and differentiation in a human myeloid leukemia cell line, Nature Genetics May;41(5):553-62. Epub 2009 Apr 19
Project link
http://compmed.se/t-medfusion/index.html
Investigators